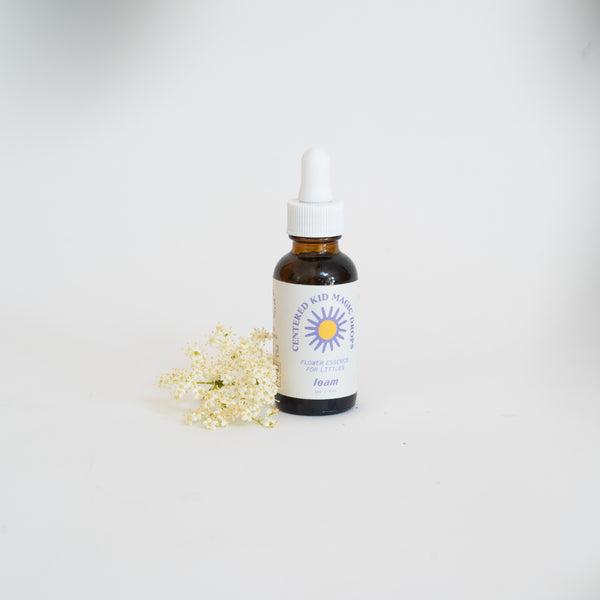 Centered Kid Magic Drops
LITTLE DROPS FOR BIG FEELINGS
An alcohol-free flower essence that feels like magic, these drops are grounding and centering for when big feelings take over. Use them in times of anxiety and fear or when tantrums come blowing into town.
Made with chamomile and California poppy (aerial parts only), these drops can also be an effective sleep aid—for those times when calm is a distant memory and rest feels completely out of the question.
Comes in a 1oz amber glass dropper bottle.

INGREDIENT SPOTLIGHT
HONEYSUCKLE: Keeps us grounded and centered, returning back to the present moment when big feelings or hyper energy is bubbling up.
ELDERFLOWER: Elderflower repairs the connections between our spiritual/emotional and physical states. Think meltdowns or tantrums, when our children seem disconnected from their bodies and emotions, elderflower attempts to bring them back into their bodies.
CALIFORNIA POPPY:
California Poppy is often used to heal us from birth trauma, which can often be present with children who don't have the vocabulary to talk about it. CA Poppy essence can also brings warmth and love and light to our bodies and our big feelings.
* These statements have not been evaluated by the FDA. This product does not intend to treat, diagnose, cure, or prevent any disease.
Uses
1-5 drops directly in mouth or 20 drops in 4oz of water or juice. Safe for all children over the age of one. Store out of direct sunlight or in fridge.
Ingredients
Vegetable glycerine, chamomile flowers (Matricaria recutia), California poppy aerials (Escholzia californica), flower essences of honeysuckle (Japonica spp.), California poppy (Escholzia californica) and elderflower (Samubucus spp.)